Michelle Leivan » McCoffee Council 18"x24"
<< Previous | All | Next >>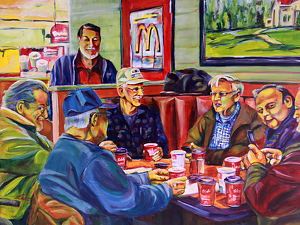 Medium: Print on Canvas
Size: 18 x 24
Price: $200.00 USD
Availability: Available

Click to zoom in
Contact the artist about this artwork
---
Artist Comments
This is from my "People I Know" series. Please visit the series for artist comments about the piece.
Description
This is a fine art giclée print or reproduction on canvas panel ready for framing.
About Giclée
Giclée – pronounced "zhee-clay" is a derivative of the French word "gicler" meaning "to spurt". It is a coined term for the process of making high quality fine art prints from a digital source using ink-jet printing. Artists generally use giclée inkjet printing to make reproductions of their original two-dimensional artwork, photographs or computer-generated art.
The process to create a "giclée print" represents a relatively new advancement in printmaking technology and produces better color control and accuracy than any other current means of image reproduction. Original artwork is translated digitally with high resolution scans, digital cameras or computerized art programs and printed using professional color ink-jet printers. High quality archival inks are used on a variety of surfaces including canvas, fine art papers and photo papers. The quality of the giclée print rivals traditional silver-halide and gelatin printing processes and is commonly found in museums and galleries.
---
<< Previous | All | Next >>