Michelle Leivan » Portfolio of Works
The impressions of digital self-portraits are fascinating to me as being a part of our social media culture. What does it reveal about a person? There are complex human emotions behind each selfie in how it is picked by the 'artist' and then how it is seen by the world in which it is shared.
I am creating my own "selfies" through the age-old practice of painting, combining the historical journey of the original artist's self-portrait method and the modern selfie photo. This allows me an expressive visual dialogue on the human condition created by social media and insight on our place in the world at large.
I invite you to watch the progress and join in on the conversations, you can find me on Facebook here.

New development you can join in the social media commentary by creating your own meme text with my new Selfies series and post it on your Social Media profile. There is a face for every mood and you can use my expressions to mask your own! Create it with Meme-A-Leivan!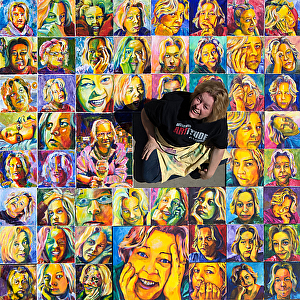 ---
New studio new means a new series of "People I Know." It seems that every person who comes into my life teaches me new things or reminds me of the lessons I have already learned but have forgotten. With this new series the plan is to explore this idea, gleaning the life lessons people who have come into my life and the lessons they have to share. - Enjoy.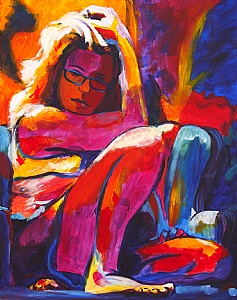 ---
In this project local Topeka artist Michelle Leivan has captured the stories and quick portraits in the alla prima style of people found in the NOTO Arts District on Saturday mornings between 10 and Noon during the Summer of 2013.

The final project will culminate in an exhibit with all the paintings and select videos. Opening will be on December 4th, 2013 from 5 to 8 pm at the Yeldarb Gallery, 909 N. Kansas Ave., Topeka, Kansas. The exhibit will run through the end of the year.
To see the progress of the project stay tuned into her YouTube Channel Play List.

"Alla Prima" is a painting method that is direct, expressive and is done with no preparation - this defines not only the paintings but the interviews themselves. - Enjoy.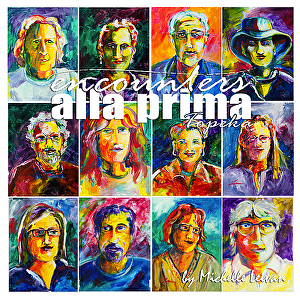 ---
Proven to create an immediate and long-term positive impact on attitude, conduct and retention, flowers have established a unique niche in the human experience. The role of flowers to enrich human experience can be found worldwide cultures throughout history. Whether they are used for religious, romantic or decoration purposes, the allure of blossoms have rooted their way into our daily lives and our psyche.
As an artist, the inspiration from this natural splendor creates a reason for meditative reflection and a search for the expressive peace found within both the process and subject. I choose the flowers I paint by being moved through their sense of unique character with the idea that the flower no longer serves its innate purpose of beauty but becomes personified with rich character and silent story telling. So I ask you, the viewer to welcome the mood, behavior and memory enhancing effects of the floral form and find your own story with these delightfully visualized Kansas wildflower paintings.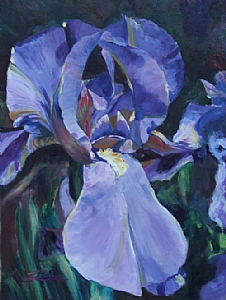 ---
Inspired by the native wildflowers of the rolling flint hills of Kansas, Michelle Leivan has expanded her exploration to the floral form. Hiking in the luscious meadows and along the rustic roadsides Michelle delights in recording each floral sighting with anticipation of interpreting each with her expressive and distinctive impressionistic style. Her bold pallet and energetic paintings weave philosophical and intuitive compositions for modern contemplation of nature.
Several of these new pieces have been honored by being selected to hang in the Kansas capital building, including Governor Sebelius' conference room and two were recently selected for the Art in Embassies Program where they will be a part of the exhibition at the U.S. Ambassador to Paraguay in the U.S Embassy Residence in Asuncion.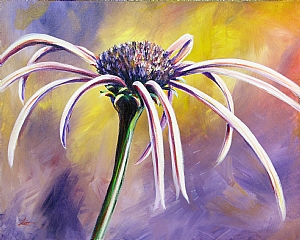 ---
A large selection of additional artworks are also available as fine art giclée prints are available at ArtPrintExpress.com which is owned by Michelle Leivan. Whether here or on the Art Print Express site, every piece will be produced and approved by Michelle.
About Giclée
Giclée – pronounced "zhee-clay" is a derivative of the French word "gicler" meaning "to spurt". It is a coined term for the process of making high quality fine art prints from a digital source using ink-jet printing. Artists generally use giclée inkjet printing to make reproductions of their original two-dimensional artwork, photographs or computer-generated art.
The process to create a "giclée print" represents a relatively new advancement in printmaking technology and produces better color control and accuracy than any other current means of image reproduction. Original artwork is translated digitally with high resolution scans, digital cameras or computerized art programs and printed using professional color ink-jet printers. High quality archival inks are used on a variety of surfaces including canvas, fine art papers and photo papers. The quality of the giclée print rivals traditional silver-halide and gelatin printing processes and is commonly found in museums and galleries.
For artists this process is most advantageous because they can reproduce their artwork on-demand with minimal effort and manageable cost. The high cost of mass production for an edition is eliminated and each image can be printed on demand. The digital files are archived until they are needed and will not inherently deteriorate as does the older film process. Also, with the giclée process a print can be made to accommodate a variety sizes and onto a variety of media, which gives the artist another option for customization with each client. So please contact me for custom options.
---
A creative, wacky drawing card game that offers on the spot fun for four to ten players. It takes minutes to learn to play and a lifetime to perfect. Each spontaneous stroke challenges you, sparks the imagination and offers limitless possibilities and healthy self expression. Your fellow Artist provides that first stroke and the Juror a word of thought provoking direction. Your task is to quickly finish the picture, in any way you want. Keep in mind, you must please the ever subjective Juror to become the Art Genius and win!

This game is the result of the creative work of Michelle Leivan. She has conceived, designed, illustrated, published and hand assembled the game and packaging. She also reserves the creative copyright for this
game

Please contact Michelle for any questions or comments.
---
"Celestial Correspondence" series reflects a subversive twist on the classic nude of the female form. Stripping the figure of culturally significant cues of beauty, I dare the viewer to find the subtle essence of facial expression and gesture. My unexpected pallet provides a multicultural, non-ethnic specific tone which captures the universal aspects of femininity. The series, dominated by abstract female nudes were inspired by the complex social and passionate soul searching that developed during the deployment of my husband. However, the images reach beyond the emotional abyss realized from the uncertainty, loneliness and sense of abandonment many women like me experienced during the last 10 years. The work gives visual voice to the sacred feminine and the glory of dominating the fears with the strength that is there to be discovered within every woman facing the struggles in the modern world.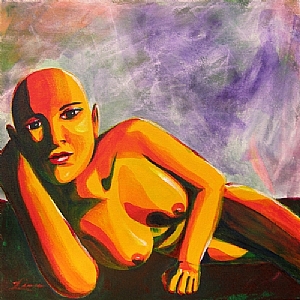 ---
Created alla prima these explorations of the human form, color and composition are created during a single two hour sitting with a live model who is directed to simply change pose. Each session consists of 2 - five minute poses, 2 - ten minute poses, 2- 15 minute poses and 3 - 20 minute poses, there is no specific direction given to the model except for the time constraints. They are a created intuitively and the variety of poses allows me to pull emotionally from the model and the pose as well as build upon the layers that are created with each new gesture of the fellow vulnerable human being in front of me. - Enjoy!
Fine art prints for these pieces in a variety of sizes and mediums are available at ArtPrintExpress.com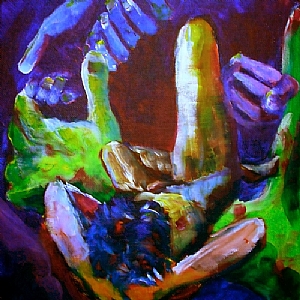 ---
This series is based on the perception duality many young women present to the world. The conflict of the independence they believe they portray versus the true co-dependency they actually exhibit to the world, a contradiction they are too often unable to recognize. Each piece is dominated by abstract female figures. The style used allows expression of the human form in a multicultural, non-ethnic specific tone, capturing the universal aspects of humanity. Notably the use of color creates a striking contrast to the expected outcome in portraiture. Utilizing many levels of double meaning within the prose and images the full project digs deep into the psyche of the subject and viewer. Entire series also available as a book on Blurb: click here
---
---