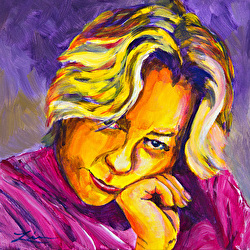 Interacting online often feels like falling into Alice's Looking-Glass. You expose yourself to an unknown and surreal world which can make us hesitant to show our real selves.
Unlike Alice we are in full control of the images and interactions we have online. This can be empowering rather than intimidating. With the use of photo editing software we can certainly put our best face forward, design our persona and become virtually anyone we wish to be.
The ability to be anyone online is not only liberation but also a warning. Are you talking to the person you think you are actually talking to? Is that 15 year old girl that you only know online really a 54 year old guy posing as that girl? Intimidating right?
Although I personally don't understand the allure of completely changing who you are online, because it seems like a lot of work! It isn't that much different in real life.
We all put on our public faces when we go out into the real world too. But it is much easier to create our own Wonderland in the comfort of our own home with the entire world wide web to scrape from and become who we wish to be than to expose who we really are.
In the extreme, this is called "Catfishing" which is a full blown false personality created online and they can do damage to those who the lure with the bait of personal drama and mystery. This activity was brought into light with the movie "Catfish." http://www.iamrogue.com/catfish.
There are warning signs for these, inconsistent stories, unavailability, items sent from a different address than where they claim to live and the list is long. Basically it is an elaborate rouse created to attempt to live another life virtually and that is where they will keep it forever as long as you continue to play in their Wonderland.
With all of the dangers online, I think we just need keep our heads and to stop and evaluate the situation as we do in real life. When it comes right down to it, no matter where we interact, in real life or online we are still dealing with other fallible human beings. So my friend just be careful out there and keep it positive and you'll be good.
Have you ever ran into a person creating their own Wonderland online? If so tell me your story.