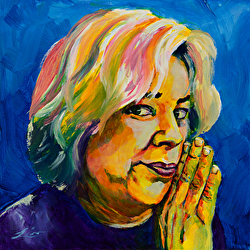 Am I telling you a secret or gossip?
What is the story here? Am I getting ready to tell you a shocking personal secret, a juicy piece of gossip or something completely different? Share with me and your friends what you see in this piece or give me a story of a secret or gossip and how sharing had an impact on you or others.
Do you remember as a kid sitting in a circle and playing telephone or also called gossip?
The way it is played is the first person picked a message and it was passed as a secret from one person to the next until it ended with their neighbor. Then the neighbor announced what the secret was and then the person beginning the message announced what the message was to begin with. The two were never the same. This activity really shocked me as a kid, because the original meaning was always grossly distorted once the message made its way around our circle of friends.
It was a lesson well learned by me and I take it into consideration whenever I open my mouth or if I hear news from any source. Inevitably no matter how hard each person tries to stay true to the message it is never the same as the original source.
I believe it is not always maliciously changed, but that when we hear a message we also add to the telling our own life experience and the story gets changes simply because it went through each person as a filter.
This phenomenon happens even online. However, I think in this medium it many of the changes in the story are actually planned to meet someone's agenda. There is much more effort involved in repeating a factoid online with a graphic or photo than there is in simply telling the story face to face. So the filter and distortion happens intentionally.
Unfortunately, we see this used with every story in the most trusted news sources as well. The integrity of our news sources has given away to agendas and the attempt to keep up with the 24/7 news cycle. I believe that caution must be used when we hear any news unless we witness it firsthand.
This makes it difficult to ever find the real truth. Then again isn't all truth filtered through our own experiences? So do we ever know anything but the truth as we know it and our choices in what we believe?