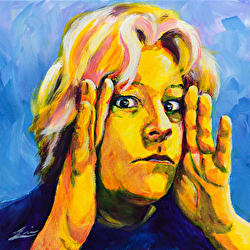 What art career obstacles are you experiencing and would like to overcome? and would like to overcome?
For many independent artists out there thinking about creating a viable art business is both overwhelming and a headache. But did you know that everything about business is learnable and with the right knowledge you can build an art career even in Topeka, Kansas?
I attended the ArtsConnect Sustainability and Economic Impact of the Arts panel yesterday featuring guest speaker Randy Cohen, the Vice President of Research and Policy for Americans for the Arts. He unveiled the results of the year-long study on the impact of the Arts in our community. The good news is that $20 million dollars in business spending in Shawnee county alone. Now that is an impressive number! More on the event at CJonline.
These statistics say that the Arts is a viable business in our community, it places the arts as the 7th largest employer in Topeka! How about some of that for you my artist friend?
This is fantastic news for the Arts as a whole in Topeka and proves that art careers can be built. But as I see it, we aren't quite there yet. What I see on a daily basis is that Art isn't seen as a business but as a hobby or a pastime for the creators.
This isn't the truth. Since the dream inception of the NOTO Arts District a few years ago there is one thing in the planning that is lacking. That is business expertise of creators. The myth of the starving artist is still rampant in the mindset of the artists as well as the public at large.
Starting out on your own entrepreneurial endeavor is a lonely place to be, I know this from starting my own business, ArtPrintExpress.com. I had to actively search for the answers to questions that I didn't even know I had, but discovered along the way. There wasn't a mentor to turn to for advice because no one else had tried my sort of business in the area before. I ended up turning to online business experts to give me guidance. With determination and perseverance (what I have renamed as Artitude) I made it work. The road was jagged and there were and are failures but I now have a viable business model.
Not everyone has to have such a solitary road when it comes to creating an art career because there are many people in our area succeeding in building a career from their art. What I believe is artists as a group can come together to learn from and support each other to build viable art careers.
For my artist friends who are attempting the dream of making a career from their art I have a couple of questions. Would you be interested in learning what it takes to build a viable business with your art? If there was a course, what are the obstacles you are experiencing and would like to overcome?