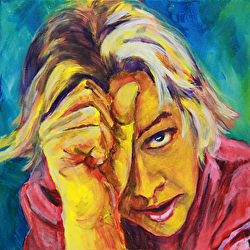 How about that for having nothing?
Yeah, I got nothing. I envy people who seem to have a witty comeback for nearly every conversation. Usually I find myself standing in the middle of a group with absolutely nothing to contribute. The pithy comments usually come later when they are irrelevant to the current conversation or I am alone.
Sometimes it takes me a while to completely process the context of a face to face conversation. I am paying attention to more than the words that are spoken. I am observing the gestures, expressions and the rhythm of the words as they are spoken. When I pay attention to all of that I become an observer rather than a participant.
I am fascinated by people in social context as a result I become a wallflower rather than the center of attention. It is the artist in me and the lure to paint people rather than landscapes. Sometimes I wish I could have Google Glass so I can simply capture the moments I see to store and recapture the poignant moments on canvas. (Who has $2000 for an accessory that you don't own and can't share?)
What is needed is something inconspicuous, because as soon as you pull out the cell phone to capture the moment, people suddenly put on their masks, the emotional instant is lost. One possible more economical solution is the new Samsung Galaxy Gear Smartwatch which makes a camera available on your wrist. But somehow that would seem awkward and sneaky to attempt to get a shot as you casually look at your watch like Dick Tracy.
I still have nothing. No witty contributions to the conversation or a way to capture the interesting things that I observe. It must be a little spring fever and my imagination whirring away at the possibilities to integrate technology into my work. Of course I don't need any of those gadgets to continue with my selfies. I am not finished with the "Being My #Selfie" series yet so I'm all good for today even if I still have nothing.
I can simply continue with my blissful nothingness. "You know nothing John Snow." This doesn't stop John from moving forward with his goals. I think I'll take a cue from him and just keep moving forward.
How about that for having nothing to begin with?