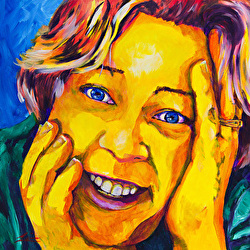 Will you join me on this journey? I make it super easy and fun!
This post marks my 50th "Being My #Selfie" painting in the last month and a half. When I look back and consider the journey so far, I realize that the only way to accomplish anything is daily progress. Including sticking with a schedule and expecting only that something must be done each day toward the goal even if you are not real sure what that end game is going to look like.
Initially I was thinking that artists have created self-portraits throughout history and these were the original selfies. These artists didn't have the advantage of today's technology to get immediate feedback on their work as artists do today through the web. I decided I wanted to explore the possibilities and take a personal journey combining the new presentation opportunities online with a traditional method of creating the images.
As with any creative project, there are realizations and discoveries that happen as you get absorbed, and dare I say obsessed with the venture.
The big thing that I didn't envision in the beginning was the development of a new website http://meme-a-leivan.com to encourage people to use my images for their own expression. The site is simple; you are immediately presented with a range of emotional images and when you see the one that fits your thought, click through to add your own expressive, witty thoughts. Finally you are offered a variety of ways to share it online. There is also a library of recently created memes to share as well as an opportunity to vote on your favorite.
Most artists would cringe if you used their work. My shift from that mindset was the idea was that emotions are universal and relatable. It seems a natural idea to open the door to making them easily available for people to use on social media. Bringing people into the mix of my exploration of the role of this technology created an even deeper study of the subject. Do you have pithy thoughts or ornery replies to ideas that have been posted on your timeline? I invite you to join me in this project by making memes of your own to share with your friends!
What does the next few months hold? I am not sure; although trite, the truth is it is the journey not the destination that matters right now. I am thrilled that you are taking the time to follow my progress and your comments and feedback are always welcome. Better yet, become a part of the journey by using my meme maker and share your reactions to the world with your friends and family! http://meme-a-leivan.com