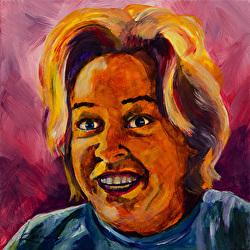 Are you on a winning streak?
Life is like the Roulette wheel, every day is a new spin of the wheel and as you hope that your ball will land on red once again as it has for the past couple of months it is inevitable that your ball will land on the statistically equal possibility of black. Expecting that little white ball to land on a specific number, that would be too much to ask for.
The Gamblers' Fallacy is the mindset that has made Las Vegas a destination in what is otherwise a desert waste land. It is the idea that given even odds a winning streak happens independently of the statistics. I find that this logic happens in everyday life whether you are in the casino or not. You can plan a lot of things in your life but you can't control everything.
I wanted to paint a painting every day and boy howdy, I was on a 50 plus day winning streak! I conscientiously scheduled my time to meet my goal all was working and I found myself in the middle of the euphoria of meeting my goal and painting every single day! What a wonderful place to be in! I was snugly wrapped in meeting my realistically unreasonable expectations that were doomed to fail.
The first day to fail to meet my daily painting was pretty awful; I started beating myself up emotionally and mentally. It was this toxic self-talk that lead to the next few days of failure. As each day passed I painted but failed to finish the painting or failed to post it. This coupled with a few other personal disappointments in one short week I found myself spiraling down a funnel of depression and lack of confidence. I just wanted to stay in bed.
I had to snap out of this madness! I knew too what would do that is an attitude adjustment on my expectations of what I was reasonably able to do. Slowly I came to the realization that much like a gambling addiction I was really expecting the impossible for myself because it is inevitable that the roulette wheel of life was going to fall on a losing number. The only way to avoid it was to completely sequester myself from life and that wouldn't be a way to live.
With my new expectations adjusted I am moving forward and I believe that this was a lesson that I needed to learn. I don't know how many times I need to learn to be kinder to myself through my expectations but I suppose life will continue to beat me over the head until I have it down.
Winning streaks are great, but life with loved ones and even with the occasional unforeseen challenges that come with them is what makes life worth living. It is these ups and downs that teach us the most about what it means to be alive. The best we can expect is to keep breathing and adjust our schedule to make room for the things life throws at us.
I will be getting back to "Being My Selfie" series but I am going to post them a little less often so that I can allow myself to experience all that life has to offer, the wins and losses.
Now it is your turn, I would like to know from you is what was your most recent life's winning streak like and how did it end?
P.S. As I was preparing today's upload would you believe my Lenovo computer crashed again! This was the second time in my 3 months of ownership. I had gotten it back 2 weeks ago from the manufacturer repair depot. Good thing my intuition told me not to trust that machine… Office Max took care of me and I should be getting my laptop back early next week… then I have 2 weeks of trying to get everything back on it once again! Life is so much better if you don't play Russian Roulette with your data.