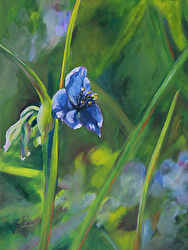 This is my first painting of this beautiful treasure with the odd name of "Spiderwort"; I have been fascinated by its simple beauty since the day I found them in a field near Clinton Lake. I found this particular one a few weeks ago, bouncing in the wind near a roadside ditch. It seems sometimes, when I am out specifically looking to wildflowers to capture, they draw me in with a nod with the wind or a glimmer of color. This one brought me in from my moving vehicle with both the nod and the glimmer. When this happens I stop the car, grab my camera and walk back to the place I thought I saw the color. I was not disappointed. Not only did I find this beautiful Spiderwort, I also found a Primrose which will be coming around soon.
As one of the few flowers in the Tallgrass Prairie of Kansas with a blue bloom Spiderwort grace us with their pretty petals for one day and then fade away, however the plant itself continues to bloom with each pod taking its turn for glory throughout the month – so the mystique and madness of me finding this very flower and painting its portrait with adoration to lengthen that short lifetime, hence the title.
Not only does the plant intrigue me, but even in my research, there is a lot of mystique that goes along with this plant, the oddest being that the stamens will turn pink in the presence of nuclear fallout. I suppose that came in handy for the service men who manned the nuclear missile sites buried throughout the area.
Some of the more interesting tidbits about this plant is that there is a long standing herbalist tradition that the sap from the leaves (which comes out clear and stringy like spider webs or "Cow Slobber" another common name for this beautiful plant.) cures spider bites and an interesting disease called "The Dancing Madness" (symptoms included headaches, sweating, trembling and severe melancholia) which was believed to be caused by spider venom. Never the less the plant gets its name as many plants do through the Doctrine of Signatures which is an ancient herbalist theory that a plant can be used as a medicinal for human ailments based on some aspect of its form or color gives us a clue as to the plant's beneficial nature to the human body. So, since spiderworts grass like leaves are suggestion of a crouching spider and the sap looks like spider webs, then the plant is a good remedy for spider bites. So there you have it the mystique and the madness surrounds this pretty little blue flower from all sides. – Enjoy!
To see more of this series go to http://michelleleivan.com/collections/21558