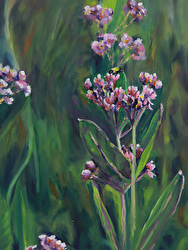 The Bee's Visit to the Milkweed
It's funny the things we can discover about beliefs and assumptions that we make about our world when we open our mind to new information. I've gone out to capture wildflowers for reference now for years. Each new plant I find to photograph seems to amaze me when I start my research. This painting is of the "Common Milkweed" which has been seen less in my outings than the Butterfly Milkweed that sports rich orange blooms. When I found the "common" variety, I thought I had found a treasure. The dusty purple/pink blossoms called to my color sensibilities as I was drawn to photograph it. Much of the time on my field trips I am accompanied by various insects and more often than not I encounter bees. Of course, I don't have a fear of bees, they simply poke around the flowers and really mind their own beeswax as long as I too mind my own.
Best known for their attraction for monarch butterflies, the Common Milkweed also serves as an important food source for bees. It has been suggested that our food supply, without bees, would put one third of the world food supply in danger. In the news over the last decade there has been concern about the health and welfare of our bees caused by a mysterious phenomenon referred to Colony Collapse Disorder (CCD). Recently experts estimate losses projected in the billions if the honeybee population continues its decline at this rate.

"About 130 crops in the U.S.—worth some $15 billion a year—depend on honeybee pollination, and if bee populations really did collapse, it would mean an agricultural catastrophe," Time Magazine wrote last April.
There is much conjecture about the cause of CCD including the use of insecticides on our food source fields. However each of us can help by putting the Common Milkweed into your backyard garden and creating a bee friendly garden.
There are many benefits beyond the health of the bees to add the Milkweed to your backyard. According to http://www.wildfoods.info milkweed is also a tasty and nutritious addition to soup, stir fry and even as a side veggie dish. "Because of the myths surrounding the plant, many people have kept their distance from the common milkweed. This is sad because it is one of our best tasting, easiest to harvest, and most abundant edible wild plants," www.WildFoods.info wrote about the untapped potential of the plant.
Now, I haven't personally tried milkweed as a side dish, but will gather some up the next time I go flower shooting just to give it a try.
No matter what this is a beautiful, fragrant plant the is invaluable to our ecosystem and deserves for each of us to consider it when we are out on a nature walk. - To check out the Availablity of the piece - Click Here