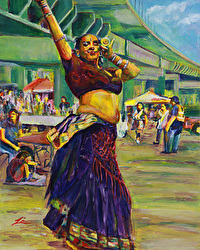 Raks Sha'abi at the NOTO Saturday Market
This piece for me is both nostalgic and celebrates my new achievements. In the nostalgic department, I am not unfamiliar with belly dancing as I took several classes during my husband's first deployment and choreographed a dance for him when he returned. Since then, I have had an appreciation of the art which is wonderfully feminine and alluring. As for the present, last Saturday, I exhibited 11 artists in my Art Print Express booth at the NOTO Saturday Market (a new venue for artists in the NOTO Arts District north of the river in Topeka, Kansas). If you look carefully you will see my booth in among the background vendors. It was that weekend that I took advantage of the Irie Blu troupe performance to capture my friend Cyreigna in action and to place her at the Saturday Market.
The term "Raks Sha'abi" refers to a belly dance style that is "dance of the people". This seemed an appropriate name for this piece even though the dancer works in the American Tribal Belly Dance Style. Many locals will recognize the Cyregina in her belly dancing regalia because she regularly performs in public venues such as the NOTO Saturday Market. She has also posed for my Open Life Drawing Sessions at Washburn University with her full costume, sometimes even bringing her dancing props such as a Scimitar (a curved Middle Eastern sword) balanced on her head - it is always a fun and lively event when she models.
Cyreigna is also Owner/Director of Irie Tribal Dance Co., a Fatchance® Bellydance Sister Studio...Irie Tribal, is derived from the Rastafarian saying, 'Irie,' which stands for 'I Respect I Eternally,' and is a word that conveys hope and happiness--exactly the emotion Cyreigna endeavors to create.
Irie Tribal Dance Company is an all-inclusive Dance company that offers not only classes in American Tribal Style® Bellydance, but also tribal costuming. They believe that no matter what type of dance you do, as long as you are true to self and others everything will indeed be Irie, (a word that conveys hope and happiness).

While trying to open more eyes, hearts, and doors in the Auburn/Topeka area, Irie strives to portray themselves in a positive light and give back to others....Dancing for those can't dance for themselves....Dancing is the most unselfish thing we can do...That is why we smile, that is why we dance. It brings us joy to see joy in others!

The performing Troupe, Irie Tribal consists of Cyndi (Cyreigna) and Amy (Miriam)
Irie Tribal Dance Company students are known as Irie Blu. They are taught pure ATS® as Carolena intended.
To purchase the piece or explore my other pieces go to my website