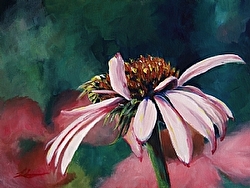 Bees Knees on Echinacea currently at the Topeka Art Guild
This First Friday on November 4th finds 3 events featuring my artwork, Kansans Paint Kansas, Sunflower Cirque both in Topeka and Visions of the Flint Hills, in Kansas City.
The Topeka Art Guild will have their artist reception for the Kansans Paint Kansas show. Juried by Judith Mackey, the art represents the wonderful beauty of Kansas. I had two paintings accepted in this show, Bee's Knees on Echinacea and Sun Worshipers. Come browse the beautiful Kansas art, and enjoy all of the great artists that Topeka has to offer with the bonus of some wine and cheese. Christmas is just around the corner so it is time to start thinking about buying local art for your friends and family. This month I also have a few of my giclee prints on canvas and paper along with my note card sets of Kansas wildflowers and florals will be for sale at the guild. Located in Fairlawn Plaza at the west end of the mall next door to the new restaurant Lazy Toad. Time: 5-8 pm If you can't make it to TAG on Friday, stop by when it fits your schedule they are open Wednesday - Saturday 11-5 - this show runs through the end of November. To learn more about the show go to www.topekaartguild.org
Also on First Friday,
Warehouse 414
will have an artist reception for the
Sunflower Cirque
show. Seventy Seven sunflower works were accepted, 3 of which are mine,
End of the Season
,
Apollo in Delphos Facing the Morning Sun
and
Apollo in Delphos Facing the Evening Sun
. So if you love sunflowers this is the place to be on Friday night. Come enjoy the Kansas state flower, a little wine and munchies and help support the local artists. Buy some local art for yourself, a friend or family, don't forget the holidays are just around the corner. Lets keep the local art market thriving. THINK ART! THINK LOCAL! THINK TOPEKA! If you can't make it on Friday night, there is still time to see the show because it runs through Nov. 12. You can learn more about the show at
www.warehouse414.com
Buttonwood Art Space
located at 3013 Main Street, Kansas City, is hosting the
Visions of the Flint Hills
exhibit and fundraiser. This annual event benefits the Kansas Tallgrass Prairie with 50% of the proceeds go to the Flint Hills Tourism Coalition, a non-profit organization which promotes the Kansas tallgrass prairie as a visitors' destination. So if you are going to be in KC, stop in and consider purchasing one of the wonderful pieces art and help save one of Kansas most precious resources. My piece that was selected for this show is "
Pale Purple Coneflower Above a Patchwork Plain
." During the First Friday artist reception, appetizers, wine and beer will be served. The gallery is open M-F, 9-5 and Sat, 10-3. Hurry because this show ends Nov. 25. Visit their web site at
www.buttonwoodartspace.com
.