A look into the inspiration behind the work.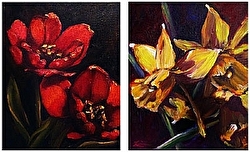 My Facebook posts led to my most recent paintings, "Daffodils - Signs of Spring" and "Easter Tulips" to find a home tonight. As with many art buyers there is a story. Identical twin grand-daughters, one who loves daffodils and the other who loves tulips inspired the purchase of these two paintings. Grandma wanted something unique and beautiful in her house that reflected her beloved girls. I love this story, it is art sold for exactly the way art should be acquired and is the exact reason why I paint. There is not a better complement than to find that your work makes a connection and for it to bring a lifetime of joy and memories for another person. Thank you Jeanie!
Comment on or Share this Article >>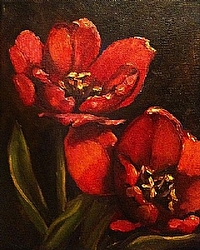 A new painting for Easter... the tulips have not yet bloomed locally. The snow storm a couple of weeks ago stunted their blooms. It may be a couple of weeks yet before I get new photos of our tulips but I found a photo from last year that I had forgotten that I had and was wanting to paint. I believe it makes a beautiful companion piece for the daffodils I painted last week.

Comment on or Share this Article >>