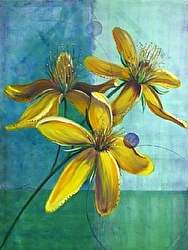 Acrylic on Canvas 48"x36"
This piece features the Kansas wildflower St. Johnís The dark spots on the petals are said to represent drops of St. John's blood.
KSwildflower.org
Saint John who had been sentenced to death was beheaded violently. Saint Johnís splashing holy blood formed the red oil spots on the translucent yellow leaves of St. john's wort . The Saintís healing power passed to St. Johnís wort and the plant was called the root of Saint John.
The medicinal property of St. Johnís wort for many different health problems raised it to a legendary level and made it the subject matter of myths and folk beliefs.
In Ancient Rome they called the St. Johnís wort the ďdemon scareĒ. It was a talisman hanged in houses for driving away and being protected from the evil spirits. Besides that, it was believed to be protecting the house from thunderbolt and death. Ottoman soldiers used to carry with them the oil of St. Johnís wort for to treat wounds. Much more at
StJohnsWortOil.com
The magickal herb
It was customary in Britain and Europe on St Johnís Eve, to gather certain herbs, such as St Johnís wort, vervain, trefoil and rue, all of which were believed to have magical properties. St Johnís wort (Hypericum perforatum) does, in fact, have scientifically proven anti -depressant qualities. Drinks were brewed from it to cure madness, sciatica, epilepsy and paralysis. The salve made from the herb cured wounds from spears and swords - or, so it is said.
Flowers of St Johnís wort used to be collected in Britain and Europe on St Johnís Eve (June 23rd) and worn on the body or hung over doorways as protection against witches. It was also placed near windows as witches can look in to cast a spell. Even in recent times the people of the Landes district of France would make crosses of wort on their doors. In Britain, one old custom was for a maiden to pick a sprig of St Johnís wort and wear it in her bosom until Christmas, by which time the man who was to be her husband, and he alone, would see it and take it from her. More at
WilsonsAlmanac.com