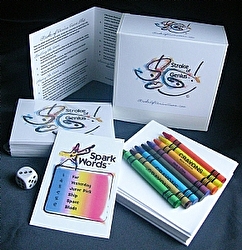 Stroke of Genious Card Game!
When my husband and I were first married we created a game together to pass the time. One of us would put a spontaneous line on a piece of paper and the other would create a new image from that first line. Stroke of Genius is a game that was sparked from this fun pastime. It allows for more players with an eye on the realities of the competitive art world.

Stroke of Genius is a creative, wacky drawing card game that offers on the spot fun for three or more players. It takes minutes to learn to play and a lifetime to perfect. Each spontaneous stroke challenges you, sparks the imagination and offers limitless possibilities and healthy self expression. Your fellow Artist provides that first stroke and the Juror a word of thought provoking direction. Your task is to quickly finish the picture, in any way you want. Keep in mind, you must please the ever subjective Juror to earn enough Spark Cards to declare yourself the Art Genius and win!

What's in the Box?*
ˇ Stroke of Genius Spark Word Cards ? 96 cards each featuring 6 Spark Words, 6 cards are blank so you can fill in your own favorite Spark Words.
ˇ A 6-sided die
ˇ ˝" of drawing sheets
ˇ 8 crayons (you will need to rummage around in your own art box if you have more than six players)
ˇ Quick play rules
* colors and items are subject to change but this list is typically what is in the box.
This game is the result of the creative work of Michelle Leivan. She has conceived, designed, illustrated, published and hand assembled the game and packaging. She also reserves the creative copyright for this
game.

Please contact Michelle for any questions or comments.

michelle@leivan.net