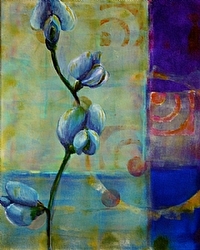 Acrylic on Canvas 20x16
Talk about stepping out of the box. The last painting "Susan on Denim" started a flurry of inspiration and activity. It's so refreshing to be inspired and productive. The Holiday season kept me so busy it seemed I never had any quietude. No time to sit and contemplate not to mention to act on inspiration.

Today, during a quite moment, I was thinking about my backgrounds, wanting to mix it up bring some energy to my method and "paint roller, in the shed" just popped into my head. "Wow, that would be fun to experiment with," quickly followed. So I spent the afternoon playing with the paint roller. Mixing it up with the floral work and the new direction of color was fantastic fun. Filling the roller, then only putting paint on a part of the roller, then two colors together, the possibilities seem endless. I am pleased with the final image and I believe I'll experiment a bit more with the rollers.

This piece shows a single strand of Wild Indigo with several suggestions of the sun set in a patchwork background with blues and purples.