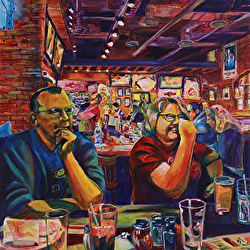 Jayhawk Fans at Old Chicago by Michelle Leivan
An evening with good friends, new beer to try, great food to eat and an exciting game to watch at Old Chicago Topeka is always something worth experiencing. Last Wednesday night (1/9/2013) Chuck and I were looking forward to joining members of our Kansas Trivia League rivalry "The Brew Crew" to enjoy an evening of "Kill the Keg Introduction Goose Island" which offers the chance to try a few new beers from a single Brewer. Although we see these people nearly every week, we seldom get the opportunity to enjoy their company, because of course during the game we don't spend time connecting because competition is stiff and quite serious.

The evening started out with an enjoyable flight of three new tasty beers (Goose Island Brand: Sofie, Bourbon County Brand Stout and Matilda – all fantastic beers) and ended with the Jayhawks pulling a losing game against Temple University into a tie at one second to go and eventually securing the win in overtime. I was fascinated with the social phenomena of people talking at the screens and encouraging their team to make the tie happen. Then some had already given up hope, "Oh, man I wouldn't want to be on that team the day after losing in 'The Phog'. They will certainly know the true force of the warning 'Beware all who enter". The mood was tense and during those last few moments everyone in the bar was riveted to the screens, then when the tie shot was made, the entire bar exploded with excitement.

In this piece are my husband Chuck Leivan and one our trivia rivals, Sarah Carver, enjoying those last few moments at our table and in the background you can also see the Old Chicago manager, Todd, behind the bar drawn to watch the tense moments just before the tie happened. A memorable evening with our own competition both drawn into a fever pitch intensely as highly competitive teams strive in the final moments a seemingly evenly matched game that harvests every eye in the establishment making every witness a fan.

P.S. Here is my critique of the three beers we tasted that evening:

Sofie is light and airy blonde but it is not an air headed blonde because it has a citrus body and goes down smooth like a good brew should.

Bourbon County Brand Stout OMG this is like eating the finest steak prepared perfectly! This brew has wonderful eyes and a whiskey mouth that will have you Begging for more!

Matilda which waltzes with your palette, teasing and pleasing with full flavor with subtle citrus overtones and a drinkability to satisfy.
Stop by Old Chicago soon to check out these great beers.