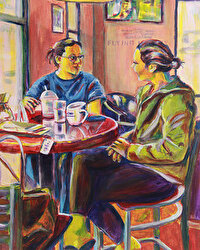 There will be three locations to see my work during the September First Friday Art Walk in Topeka and another one day event in Kansas City!
Paint Topeka!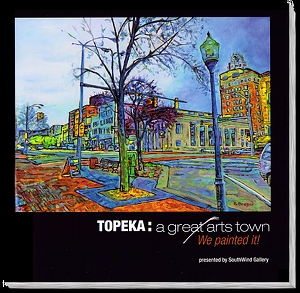 The piece above "Coffee and Conversation at the Flying Monkey" and "Raks Sha'abi at the NOTO Saturday Market" are my pieces accepted as one of over 50 artists entered SouthWind Gallery's latest plein air art competition, Paint Topeka, and hit the streets on Saturday, April 28, 2012, to capture the allure and beauty of our city. We think you'll be "wowed" by the artistic talent and the diversity of the Topeka scenes the artists chose to paint along with the publication of SouthWind Gallery's newest book that features the art and artists of Paint Topeka.

The exhibit and sale of the paintings will open during Frist Friday Art Walk Friday, September 7, 5 - 8:30 pm. An awards ceremony for the top three winning artists will be held that evening, with many of the participating artists in attendance to talk about their inspiration and their artwork and available to sign the new art book. To buy the book online or to preview the show go to www.SouthWindArtGallery.com
---
Celestial Correspondence by Michelle Leivan

Brought to you by
Sinnen & Associates
and SouthWind Gallery
921 SW Topeka Blvd
Opening Sept. 7th, 5-8:30 pm and throughout September 2012 during business hours 8 am - 5 pm M-F.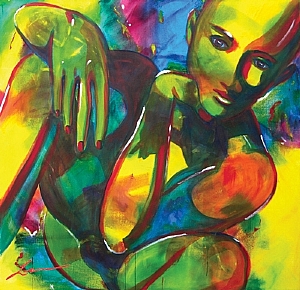 Swinnen & Associates Law Office Atrium Gallery, 921 SW Topeka Blvd. Open First Friday Art Walk (5-8:30 pm) and during business hours (8 am - 5 pm M-F) through September. The new location at 921 S.W. Topeka was constructed between 1860 and 1880, and the structure at 917 S.W. Topeka perhaps 20 years later, he said. Owner of the building, Benoit Swinnen has arranged for an atrium, with skylights, to be constructed between the buildings. Swinnen has partnered with SouthWind Gallery in Topeka to feature art from a different up-and-coming artist in the atrium during of Topeka's monthly First Fridays Artwalks.

Works by local artist Michelle Leivan's series "Celestial Correspondence" will be on display in the atrium during September's First Friday Art Walk.
Click Here to learn more about the series.
---
"The Figure" at Foole's Dream Studio
833 1/2 N. Kansas Ave. Topeka, KS
Wed-Sat: 10 am - 5:30 pm and First Friday 5-8:30 pm.
Several figurative artists present their works at Foole's Dream Studio. For my work, I have 4 figurative pieces on exhibit. Each of these paintings is a study in the human form, color and composition created during a single two hour sitting in the Open Session Life Drawing Sessions that I coordinate at Washburn University. Each session consists of 2-five minute poses, 2-ten minute poses, 2- 15 minute poses and 3-20 minute poses, there is no specific direction given to the model except for the time constraints. Many of these works include something from each of the 9 poses presented by the model. The challenge is to compose on the fly to come up with a successful visually interesting piece. CLICK HERE to see more of my figurative work.

---
Then later in September - my figurative work will be featured at for one night only!

RAW Kansas City: ENSEMBLE
September 20, 2012 | 8 pm - Midnight
Uptown Theater | 3700 Broadway St., Kansas City, MO
21+ | Cocktail Attire | $10 in advance | $15 at the door
RAW events are multi-faceted artistic showcases. Each event features a film screening, musical performance, fashion show, art gallery, performance art and a featured hairstylist and makeup artist. These artists are all local, hand-picked talent who have been chosen to feature at RAW.
RAW events feature a cash bar for cocktails while you enjoy the night. Dress code is cocktail attire, so dress the occasion and get ready for an artistic circus of creativity!
Get your tickets in advance for only $10 at
http://www.rawartists.org/kansascity/ensemble/