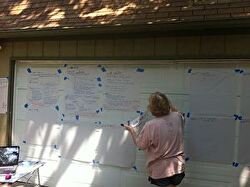 Garage door and butcher paper make a great white board for planning big!
There is a short break in my Selfies because I am seizing an opportunity to give back and learn something new every day! My husband Chuck Leivan, a master trainer for the KS Army Nat'l Guard taught me a new planning technique to develop my class Visual Arts Business Basics (AR 399) at Washburn University Art Department.
This is a simple, put butcher paper up on the garage door and layout your plan. This method really helped me see the details and how they fit into the big picture.
My objective for this class is to give the students a clear understanding of the mindset, skills and actions that are involved in building a visual arts career beyond creating their art.

This has been something sitting in the back of my mind for years. The memory that keeps coming back to me was Frank Nichols, one of my art instructors at Fort Hays State University told me "What I see for you in the future is you telling people like me what to do." At the time I thought it was a weird comment and I wasn't sure what he was talking about. Of course who understands the sage when we are 25 years old? Was he being prophetic?

When I was in college we had a similar class. Back then it was all about getting into galleries and how to take good slides. To tell you the truth, we were discouraged from thinking of art as a product. Art for arts sake was the motto of the day. I always asked myself why I was paying all of this money for a degree that wasn't intended to pay for the courses I was taking... however I saw beyond that and saw through that lie. I think the winds on that myth are shifting.
The opportunities for artists have exploded in the last few years and I have done my best to keep up with it all while building my own art career. As I see it, this mindset is the crux of the problem and it is a solvable problem. Building an independent art career is a viable career decision for artists today if they are willing to step beyond their comfort zone and learn simple business skills.

I'm so excited! The first session starts a month from today on Thursday August 21st! Time will tell if this is a new calling!