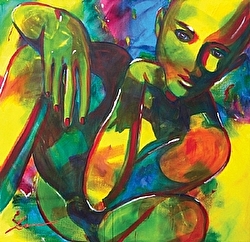 Patiently Waiting 57"x57" Acrylic on Canvas
I just got confirmation for a new one person show!
Location: New City Cafe (Gage Center, Topeka)
Event Dates: 10/1/2008 - 10/31/2008
Reception: 10/1/2008 • 4:30 - 6:00
New City Cafe
4005 SW Gage Center Drive
Topeka, KS 66604-1831
Phone: 785.271.8646
Michelle Leivan unveils new paintings in the"Celestial Correspondence" Series which are dominated by abstract female nudes inspired by the complex social and emotional soul searching which developed during the deployment of her husband. This two part series completed during two Iraqi tours documents the artist's inner dialogue and is a celebration to the long anticipated return of her husband later in the month.
Leivan's enduring subject is the female form with a subversive twist on the classic nude. Stripping the figure of the culturally significant cues of beauty, she dares the viewer to find the subtle essence of facial expression and gesture. Michelle's unexpected pallet provides a multicultural, non-ethnic specific tone which captures the universal aspects of femininity.
Also for the adventurous at heart...
WINE TASTINGS
First Wednesday October from 4:30 to 6:00 pm
Come taste four different wines for only $10.

Topics:
Celestial Correspondence