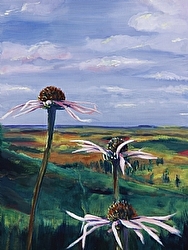 Michelle Leivan's piece accepted in the Visions of the Flint Hills Benefit and Sale
Visions of the Flint Hills
Opening Reception Friday, Oct. 7th, 6 pm - 9pm and Saturday, Oct. 8th 10am - 3 pm. Second Reception is Nov. 4th 5pm - 9pm and Sat. Nov. 5th, 10am-3pm.
The Visions of the Flint Hills Benefit and Sale runs from October 7th through November 25th, 2011. Fifty percent of your purchase price will benefit the Flint Hills Tourism Coalition, a non-profit organization which promotes the Flint Hills as a visitors' destination with authentic Flint Hills experiences. The continent's largest remaining tract of tallgrass is also one of America's unique places, harboring a wealth of adventure, beauty, and history. All art representative of the Flint Hills area with 50% of purchase price going to support
the Flint Hills Tourism Coalition. The gallery will be open M-F 9am-5pm and Saturdays IOam-3pm.
During the opening reception, appetizers provided by The Kansas City Club and wine provided by Maker's Mark. Contact Kathy to make reservations at 816-285-9040 or Kathy@ButtonwoodArtSpace.com

Buttonwood Art Space, 3013 Main Street, Kansas City, MO 64108 WWW.BUTTONWOODARTSPACE.COM
My piece "Pale Purple coneflower Above a Patchwork Plain" 12"x9" has been accepted in the Buttonwood Art Space 3rd Annual Visions of the Flint Hills Benefit and Sale. Come out and help my fellow artists and I support the Tallgrass Prairie National Preserve and the Flint Hills of Kansas.
Topics:
Blogging
|
Newsletter