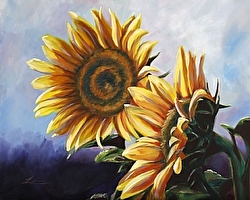 One of three accepted entries of Michelle Leivan's in the Kansans Paint Kansas Competition
Topeka Art Guild & Gallery Hosts it's Annual "Kansans Paint Kansas" Fund Raiser and Art Competition
A juried competition, open to Kansas artists and students.
Kansas artists come together in a collective art exhibit to benefit one of the biggest supporters of the arts in the North East Kansas area.
Statewide artists submitted Kansas inspired subject matter to be included for consideration in this juried competition. Both traditional and progressive art mediums are represented from artists in all levels of their career. All juried entries are available for sale providing an opportunity to buy art from Kansas artists as well as support the oldest continuing art organization in the City of Topeka. This exhibit was jurored by Judith Mackey an award winning a professional artist of 40 years and a native Kansan who resides in the Flint Hills of Kansas, paints
what she is most familiar with—landscapes of the prairie, working cowboys and the ranch life that surrounds her rural Chase County home. She agreed to judge our newest show, Kansans Paint Kansas. The Topeka Art Guild is grateful for her giving her time and expertise to our big fundraising event. It is an honor to have her participate.

Judith will be showing some of her paintings in the gallery along with the Kansans Paint Kansas show. If you haven't seen her work before this will be a great opportunity for you to see beautiful Kansas art by Mackey and other members of the Topeka Art Guild.

Opening Reception for Kansans Paint Kansas will be held on Friday October 7, 2011 from 5 - 8pm during the First Friday Art Walk, juror Judith Mackey will be present. The Topeka Art Guild Gallery is located at 5331 SW 22nd Place, Topeka, KS 66614 at Fairlawn Shopping Plaza. This event is free to the public and will continue through November 2011.
Topics:
Blogging
|
Kansas Wildflower Series
|
Oil Painting