Stroke of Genius Game Night

Public Premier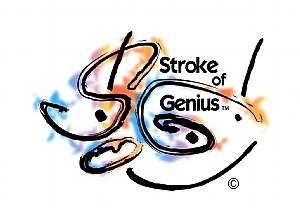 "Wednesday August 19, 2009 - 7:00 pm Stroke of Genius Game
is our first "Game Night". All you game groupies need to mark your calendar and visit us beginning at 7 PM to play "Stroke of Genius", an innovative new game which uses art as its focal point, invented by local artist Michelle Levian." -
Ice and Olives
!
Wow do I need to say more! I am so excited! Oh, maybe a little about the game itself!
Stroke of Genius
is a creative, wacky drawing game that sparks the imagination! Come an try it out at the event and get one for your next family game night!
Offering fun for three or more players, each spontaneous stroke challenges you, sparks the imagination and offers limitless possibilities and healthy self expression. Your fellow Artist provides that first stroke and the Juror a word of thought provoking direction. Your task is to quickly finish the picture, in any way you want. Keep in mind, you must please the ever subjective Juror to earn enough Spark Cards to declare yourself the Art Genius and win!
And there will even be
Stroke of Genius Game Swag as prizes
! SWEET! But surely you'd come even if I didn't bribe you...
You can see some home videos of game play and various comments about the game at
www.strokeofgeniusgame.com
(it's a facebook page, so why not become a fan while you are there too!)
Ice and Olives

Starting at 7:00 p.m.
Thunderbird Square Shopping Center
29th and Croco Rd.
Topeka, KS
785.215.8460