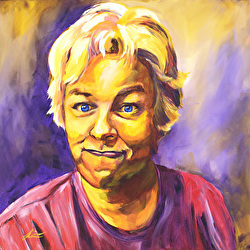 Sometimes we can be defiant and not want to live up to the expectations we set for ourselves. I started this Selfie journey last February and had a plan to paint every day. As things often happens in about 2 months in I lost my steam because life started to get in the way. You know those little daily things that come up that can create roadblocks to getting everything you need to get done in a day. I wasn't able to live up to my goal of daily paintings. I started feeling guilty about letting myself down and not meeting my goals. That the guilt kept me from painting and I was in this cycle of beating myself up which was getting in the way of doing what I love to do which was to paint. I was vicious to myself, denying myself the pleasure all because of an artificial goal that I set up, casually and I was letting it beat me.
I decided it was time to re-evaluate my goal and asked myself "Am I making goals that are unreasonable?" The answer to that question was obviously "YES!" So I readjusted my thinking and decided to simply make a yearend rather than a daily goal and see if I could make regular steps toward that goal instead. I set the goal to have 120 self-portraits done by the first of February 2015.
This was an "Ah Ha!" moment. Suddenly I no longer had a guilt cloud hanging over my head every day because I wasn't sitting in front of the easel and I wasn't feeling resentful about the things life was throwing at me that I was seeing as a roadblock. I started painting again.
So today I have finished my 80th selfie in the series. It is liberating! I am 2/3rds done with my goal in only 7 months. I still have 5 months to get the rest of my 120 paintings done. 40 paintings in 5 months, I think that is doable. Even with the additional things on my plate with the last quarter of the year looming, I know that I will have the time to make my painting goal.
I am unusually optimistic because traditionally the last quarter is especially a busy time with the holidays and activities that are coming. My mindset changed simply by not beating myself up day after day and focusing on an end state goal rather than a daily focus. The daily focus is still there, but the slate is clean each morning and I no longer focus on the past failures.
I really wanted to celebrate my 80th piece and I wanted some input to what I was doing with my Facebook friends. So I picked 6 selfie photos and asked people to vote for their favorites with the promise that I would paint the most popular one and I would make this piece bigger than any previous painting. They picked this ornery face of determination… PERFECT for number 80!
Because painting a piece 9 times larger than my usual pieces I decided to show my progress each day. This was great fun and I enjoyed insight from friends' comments as the piece was developed. This is one of the great things about social media. You don't even have to leave the studio to get feedback from your friends! And it surely beats dragging a 3 foot painting to a friend's house to start a discussion about the piece.
Here are my posts as I developed the piece.