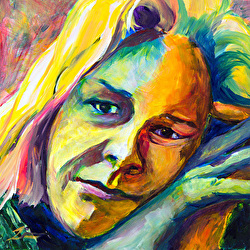 "Choices"
Choices we all have to make them and we all have to live with the ones we make. While watching TV an ad odd ad ran for the countless time on our local station WIBW which states "RUGT?" with the letters simply shown on the screen.
So I decided to look it up and discovered no one, even the reporters on the news channel, reporters have no idea what it means. It seems to be frustrating many people and the situation brought to my mind Ayn Rand's famous question in Atlas Shrugged, "Who is John Galt?" People in the novel were also perplexed by the phrase and began to use it as a reply for "Who knows?"
I love that novel especially the character Dagny Taggart. She is a no nonsense gal who is faced with nearly impossible obstacles and yet makes no excuses for decisions that she makes even when things go wrong. But it is the lesson about personal responsibly that resonates with me as best described in the John Galt speech.
"Man has been called a rational being, but rationality is a matter of choice... Man has to be a man–by choice; he has to hold his life as a value–by choice; he has to learn to sustain it–by choice; he has to discover the values it requires and practice his virtues by choice. A code of values accepted by choice is a code of morality." — John Galt in Atlas Shrugged
I'm thinking that the advertisement is an odd attempt to create intrigue. I can only guess that the answers to everyone's questions will be revealed all in good time. Then again if the answer is lame they will be paying for that choice. What do you suppose "RUGT?" could possibly be referring to and do you think creating this mystery was the right choice for the advertiser?