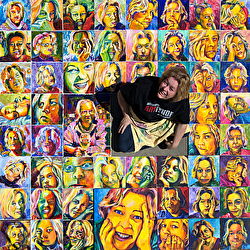 Artist Michelle Leivan surrounded by several of her 100 self-portraits for her #BeingMySelfie series.
A year in the making, artist Michelle Leivan has painted 100 self-portraits for her #BeingMySelfie series and is ready to unveil them all in a compelling new exhibit at Art Print Express in Fleming Place in Topeka. The exhibit opens on Saturday March 7th from 1 – 4pm.
What began last February as a simple study and a need to have a subject, eventually evolved into a collection of one hundred works in which Leivan learned that there was much more to painting yourself than you might think.
Michelle finds the selfie phenomenon fascinating as part of the social media culture and decided to create a twist on the predictable selfie. She was asking herself, what do selfies reveal about a person? What are the complex human emotions behind each selfie? How are they picked by the individual and then how is it seen by the world in which it is shared?
"I've learned a lot in the last year about myself, how I perceive myself and how others perceive me and my art. I guess you could say I have created one hundred shades of yellow in which I have experienced enlightenment through self-examination," Michelle explains. "Because journeys of self-discovery open new worlds of learning, for me the key is in the brush in my hand and the door is the paint on the canvas. That world is filled with delight if you let it in."
The series is filled with a surprising variety of emotion filled yellow faces accented with vivid color and can be seen online at MichelleLeivan.com and on Facebook. Most of the portraits were painted in a just a few hours, capturing a quick snapshot for the day. The gambit of facial expression is crucial to keeping the series relevant. Many followers of Facebook anticipated seeing the next work. As noted by fellow artist Becky Drager when talking about the online experience, "Every time I seen a new one on Facebook, I can't believe she has come up with another surprising expression and it always makes me laugh."
Michelle often receives similar comments on and offline about the work. "People were asking me if I was running out of faces and I worried that I the work would start to look redundant, but as I painted each piece, each showed its own personality. Now I know I could continue painting and probably never run out of the mysteries found on a human face," Leivan explains.
She found humor as refreshing a medium as the act of painting with each new piece, "I discovered what I really was doing was making fun of myself because I would finish one and then come up with a half a dozen or so crazy phrases to go with each of them. Then there were other days, as I continued to look at them in my studio depending on my mood that the expression would say something completely different. It is like the secret sauce to happiness, there really is no better way to start your day then to joke about yourself."
With social media playing an important role in the series development, Michelle decided to make the images available for public expression by creating a new site meme-a-leivan.com. On the sister site you can choose one of her pieces and create a picture with your own witticism. "Opening up the images to be used freely has added an entire new level of engagement for the audience," explains Michelle. "The site brings the images off the easel to a life beyond the captivity of the wall where most paintings are expected be enjoyed. I get excited when I see what other people create and share which adds to the fun and develops fresh facets to each painting and sharing them spreads enjoyment farther and wider."
Michelle owns her own business, Art Print Express, teaches as an adjunct professor at Washburn University, is a wife and mother, even though her schedule is busy, she insists on setting aside an hour each morning to paint. You can experience the full spirit of her love of life and sense of humor as you see all the pieces together live on display in her business.